Gain up to 620+ (Z06) 540+ (LS1) Horsepower with a Stage II Intercooled
ProCharger System for the 1997 TO 2004 C5 Corvette!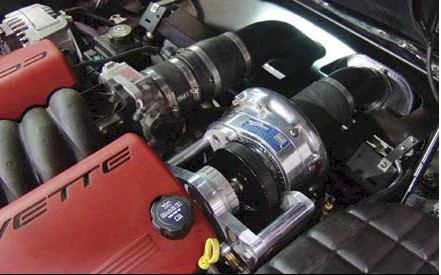 Join us, as we install the Procharger Stage II Intercooled system on a C5 Corvette... "Go Here"
BEWARE OF TUNER KITS!
Our complete kits come from ProCharger with the fuel
components and tuning that was intended for their systems.
Why take chances with tuning that ProCharger has not tested!
PART NUMBER: 1GK213-SCI, 1GK203-SCI, 1GK216-SCI AND 1GK215-SCI
STANDARD HEAD UNIT: P-1SC-1
BOOST OPTIONS: 7+ PSI (6+ Z06)
STOCK HP: 345 (385 TO 405 Z06)
HP GAIN: 55+% (50+% Z06)
STANDARD INTERCOOLER: 4.5" TWIN HIGHFLOW
TUBE DIAMETER: 3" EACH
INTERCOOLER MOUNT: VERTICAL
DRIVE SYSTEM: STOCK 6 RIB
BYPASS SYSTEM: PROFLO
FMU: NO
ADDITIONAL FUEL PUMP: NOT REQUIRED
COMPUTER/IGNITION MODIFICATIONS: PROGRAMMER SUPPLIED (COMPLETE KIT)
NOTES:
1. POLISHED FINISH IS STANDARD FOR CORVETTE SYSTEMS
2. LARGER FUEL INJECTORS SUPPLIED (COMPLETE KIT)
3. FOR MODIFIED APPLICATIONS, ZO6'S, OR BOOST LEVELS 7 PSI OR HIGHER, KEYING THE BALANCER TO THE CRANKSHAFT IS RECOMMENDED.
4. DUE TO VARIABILTY AMONG GM COMPUTERS, AND THE PREVALENCE OF CUSTOMER MODIFICATIONS, CUSTOM DYNO TUNING MAY BE REQUIRED.
Call for Price
Call: 318-286-9169
Superchargers 4 Less
1110 C C Sandidge Road
Elm Grove, LA 71051