Gain up to 600+ Horsepower with a Intercooled ProCharger System
for the 2005 to 2010 LS2 and LS3 C6 Corvettes!
See pictures from one of our installations... "Go Here"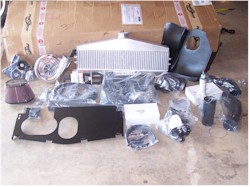 Go here for larger image
BEWARE OF TUNER KITS!
Our complete kits come from ProCharger with the fuel
components and tuning that was intended for their systems.
Why take chances with tuning that ProCharger has not tested!
With the coolest charge air temperatures and lowest parasitic load in the industry, this system produces over 600 horsepower on stock LS2 motors with only 6 psi of intercooled boost. The ProCharger C6 supercharger system is 100% complete, features polishing of the supercharger and brackets as standard equipment, and is available with a 3 year supercharger warranty.
Call for Price
Phone: 318-286-9169
Superchargers 4 Less
1110 C C Sandidge Road
Elm Grove, LA 71051