Gain up to 525+ Horsepower with a Stage II Intercooled ProCharger
System for 1999 and 2001 Mustang Cobra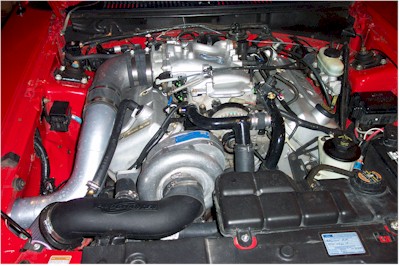 Go here for larger image
· PART NUMBER 1FF212-SCI
· STANDARD HEAD UNIT: P-1SC
· BOOST OPTIONS: 6, 8 OR 10 PSI
· STOCK HP: 320
· HP GAIN: 50- 70%
· STANDARD INTERCOOLER: 3 CORE
· TUBE DIAMETER: 3 INCH
· INTERCOOLER MOUNT: VERTICAL
· DRIVE SYSTEM: STOCK 6 RIB
· BYPASS SYSTEM: PROFLOW
· FMU: NONE
· ADDITIONAL FUEL PUMP: 255LPH IN TANK
· COMPUTER/IGNITION MODIFICATIONS: CHIP SUPPLIED
· FUEL INJECTORS:SUPPLIED
NOTES
42 LB /HR FUEL INJECTORS SUPPLIED

DUE TO VARIABILITY AMONG FORD COMPUTERS AND THE PREVALENCE OF
MODIFICATIONS A CUSTOM CHIP AND DYNO TUNING MAY BE REQUIRED.
6 PSI PULLEY FOR '99 AND '01 COBRA'S REQUIRES CUT-DOWN IMPELLER, WHICH LIMITS
MAX BOOST TO 9PSI.
FOR BOOST LEVELS 8 PSI AND HIGHER A FORD 1999 LIGHTING (PART#XL3Z-12B579-AA)
OR PRO- M MAF SENSOR REQUIRED FOR 99-01 MODELS YEARS (SOLD SEPARATELY).
Call for Price
Call: 318-286-9169
Superchargers 4 Less
1110 C C Sandidge Road
Elm Grove, LA 71051