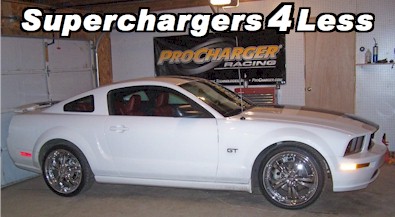 Pictures, Tech Tips and Advice from our installation of a
Procharger HO Intercooled Supercharger system for a 2005 Mustang GT.
Please call us for more information about any picture.
Superchargers 4 Less
Call for prices!
Phone: 318-286-9169
The information given below is only intended to be a supplement to the instructions
that Procharger provides with this supercharger system. We encourage our customers to
always read the Owners Manual that Procharger provides with their system.
System received and inspected. Everything looks good and is accounted for.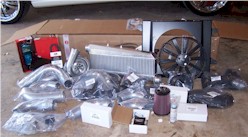 "Go here for a larger view"
We removed all of the original air intake ducting, air filter box and the plastic cover that goes over the top of the radiator.
We then removed the front bumper cover by removing 2 nuts at the junction between the fender and the bumper on each side of the car, there was a push pin connector on the passenger side. There are two screws at the top of the bumper under the hood also.
After we removed the fan and fan shroud assembly, we had plenty of room to remove the factory idler pulley bolts. Do not remove the pulleys. The pulleys will stay in place with their bolts removed.
Using Lock Tite on the main bracket bolts, attach the bracket to the front of the engine as shown in the pictures above.
We then attached the compressor to the bracket.
The original crankshaft bolt had to be removed to install the supercharger drive pulley. We tried to break the crankshaft bolt loose with a 1/2" air impact, but it wouldn't budge it. We ended up jamming a ratchet handle through the spokes of the power steering pump to keep the engine from spinning and then we broke the bolt loose with a break over handle.
Procharger provides a longer crankshaft bolt to install the supercharger pulley with.
The MAF sensor wires are too short to reach the new location of the MAF, so Procharger provided us with 6 different colored lengths of wire to extend the wires with. Be sure to match up all the colors before the soldering is done.
Call us if you have any questions about any picture(s).
"Go Here" to see some of our other installations.
Call 318-286-9169
Superchargers 4 Less
1110 C C Sandidge Road
Elm Grove, LA 71051